The roots of paper follow all my artistic pursuits – from papermaking to letterpress postcards, to Chinese Spirit Papers, to digital and graphical art designs of textual screens – paper and nature finds its way into all my designs. This path eventually led me to my current work as a climbing arborist, urban forester, aesthetic pruner. What follows are three varieties of my art work
Women's History from the Helaine Victoria Press Collection
My passion for knowing about women's history prompted me to begin a publishing company and press devoted to researching and printing images and stories about unsung heroines. Helaine Victoria Press, co-founded by Nancy Poore and myself, published mostly postcards for over 17 years. We not only focused on individuals, but movements as well. From women's involvement in the Copper Mine strikes in Arizona, to the Trade Women's Movement across the states, and the Civil Rights movement in the South. I loved the investigation of this untapped field, unearthing photos and putting together the stories that accompanied them. Or finding stories and searching for photos to follow. This is a smattering of our work. Hundreds more images abound.
Visit The Helaine Victoria Press Facebook Page
Upcoming book on Helaine Victoria Press, by Jocelyn Cohen & Julie Allen
"An Extraordinary, Exuberant Revolution: Helaine Victoria Press, the Unique Women's History Postcard Publisher During the Second Wave of Feminism"

Chinese Ritual Papers Handmade Art Book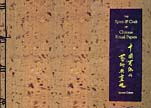 Secret formulas, sacred writings and magic powers, some 2,000 years ago Chinese invented and perfected the art of paper. They used paper to communicate with gods and goddesses in other worlds. Over centuries, paper replaced previous clay, bronze, jade, silk and gold ritual objects and became a symbolic offering to deities and deceased ancestors. Paper, after all, could be pasted, folded, cut and painted to look like any object desired. Paper, sacred and precious, held surprises and mysteries especially when burned, transforming daily messages to the spirit world. Thousands of varieties of these papers, known as joss, spirit, or money paper, fu or lucky charms, paper gods or New Year prints are manufactured today.
Oil Paintings