My passion for knowing about women's history prompted me to begin a publishing company and press devoted to researching and printing images and stories about unsung heroines. Helaine Victoria Press, co-founded by Nancy Poore and myself, published mostly postcards for over 17 years. We not only focused on individuals, but movements as well. From women's involvement in the Copper Mine strikes in Arizona, to the Trade Women's Movement across the states, and the Civil Rights movement in the South. I loved the investigation of this untapped field, unearthing photos and putting together the stories that accompanied them. Or finding stories and searching for photos to follow. This is a smattering of our work. Hundreds more images abound.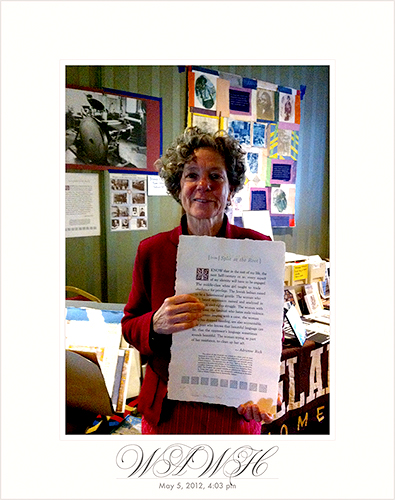 Helaine Victoria Press Postcards
Elsa Gidlow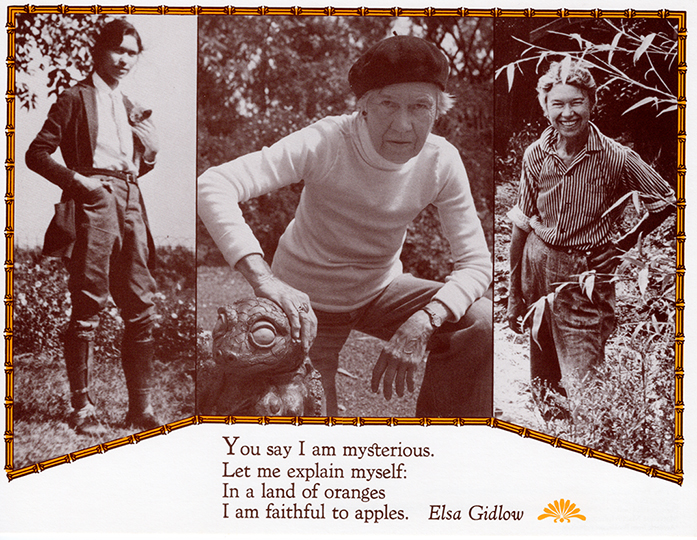 Elsa Gidlow (1898-1986), "The Poet Warrior," was a poet-philosopher and lesbian-feminist pioneer known through her love poetry, essays and autobiography, the film Word Is Out and Druid Heights, her Zen inspired retreat among the California redwoods. Elsa's writings challenge class privilege, religious and political dogmas, and sexism while celebrating all varieties of love and beauty as diverse flowers in a garden of unity. She insisted that daily life was the canvas of true art: "We consider the artist a special sort of person. It is more likely that each of us is a special sort of artist." Elsa led the precarious life of a freelance journalist, often supporting relatives and friends. Born in Yorkshire, England, Elsa emigrated with her family to French Canada. Raised in privation, she was mainly self-educated. She published On a Grey Thread, the first North American book to celebrate lesbian love (1923), and later expanded it into the poetry classic Sapphic Song's (1982).* Elsa became a leading figure in San Francisco's bohemian, then psychedelic, New Age and feminist circles. The '60s saw her unsuccessful prosecution by McCarthyites. ELSA: I Come with My Song's is the first full-life, explicitly lesbian autobiography published, "the chronicle of an irrepressible free thinker."
© 1986 Helaine Victoria Press, Inc. A nonprofit educational organization.
Caption by Celeste West. Photos 1924 (left) and 1965 in her garden (right), courtesy of Booklegger Publishing; 1983 (middle), courtesy of Marcelina Martin (photographer).
Phyllis Carter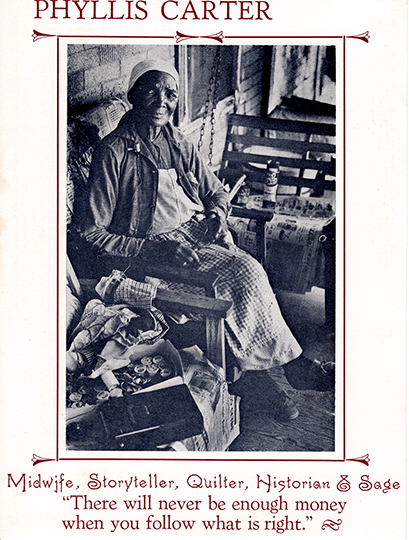 Phyllis Carter (1880-1980), midwife, storyteller, sage, quilter, and oral historian from Tift County, Georgia, was known as "a woman who never forgot." Aunt Phyllis had clear recollection of the post-reconstruction period of her childhood, when fear of lynch-mobs and desperate poverty drove her family to flee their home late one night. One favorite tale concerns how a small poisonous snake was left inside the leaves of a large cabbage. Because Black cooks working for oppressive white families were not allowed to taste from the pots or cut up vegetables, the snake was undetected. "I remember once the colored woman cooked the cabbage whole, kilt the whole family out. I been here a long time, Sister." Carter bore 10 children and outlived four husbands, "two good ones and two devils." Deeply religious and unembittered, she grew up to a wide friendship with and encyclopedic knowledge of her community, both blacks and whites. They said of her: "She was one of the very best midwives," and "She can tell you anything you want to know and never forgets a name or face." She went to school three days, and acquired her vast lifetime knowledge without literacy. She charged very little for her midwifery and quilting, believing that all her skills were divine gifts, not meant for personal gain.
© 1982 Helaine Victoria Press, Inc. A nonprofit educational organization.
Photo (at age 99) courtesy of the American Folklife Center, Library of Congress. Photograph and fieldwork by Beverly l. Robinson. Information and quotations are from her interviews (1977-79) and subsequent report on the project.
Emma Tenayuca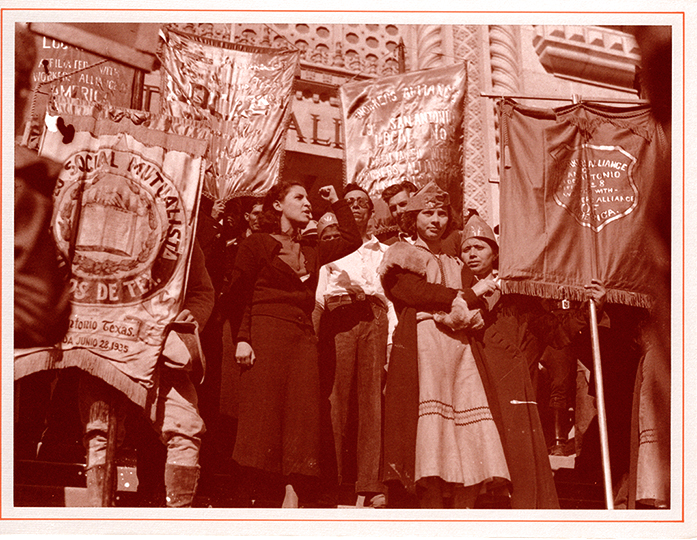 Emma Tenayuca, born 1916 in San Antonio, Texas. A courageous Chicano labor leader whose commitment to justice led her to a militant stand against hunger, misery, and unemployment of the Great Depression. From 1934-48, she supported almost every strike in the city, writing leaflets, visiting homes of strikers, and joining them on picket lines. First knowledge of the plight of workers came from visits to the "Plaza del Zacate," the Trafalgar Square of SA where socialists and anarchists came to speak. Contact with fired workers led her to join the Communist Party in 1937 and the Workers Alliance in 1936, an organization of the unemployed founded by Socialists and Communists, 90% of whom were pecan shellers and agricultural workers. The WA held demonstrations for jobs, not relief, and demanded that Mexican workers had the right to strike without fear of deportation, and to a minimum wage and hour law. When 12,000 pecan shellers marched out of the factories in 1938, Tenayuca was unanimously elected strike leader. In retrospect she says, "What started out as a movement for organization for equal wages turned into a mass movement against starvation, for civil rights, for a minimum wage law, and it changed the character of West Side San Antonio."
© 1984 Helaine Victoria Press Inc. A nonprofit educational organization.
Research by Vicki L. Leighty in collaboration with Emma B. Tenayuca, 1984. Photos courtesy of Institute of Texan Cultures (San Antonio Light photos).
Front photo: Emma Tenayuca leading a 1937 Workers Alliance Demonstration on the steps of San Antonio's City Hall.
Alelia Walker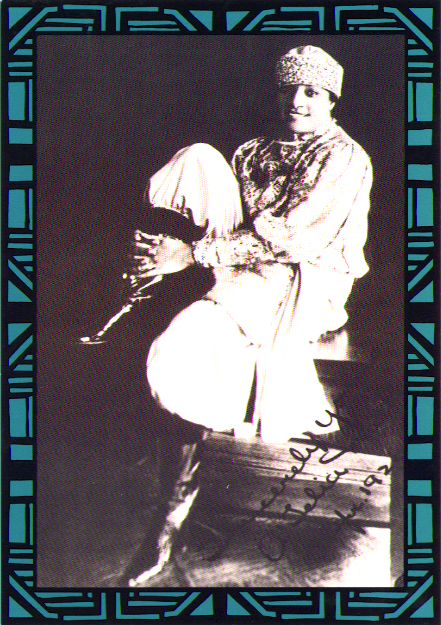 Alelia Walker (1885 -1931), the only child of Madam C. J. Walker, hosted one of the most memorable salons of the Harlem Renaissance. In "The Dark Tower," a converted floor of her New York townhouse, she entertained Harlem and Greenwich Village writers, artists, and musicians, as well as visiting African and European royalty. Her parties, along with her regal African beauty, lavish clothing, and glamorous lifestyle, inspired singers, poets, and sculptors. Langston Hughes called her the "joy goddess of Harlem's 1920's"; Zora Neale Hurston outlined a play about her and her mother; and Carl Van Vechten based his Nigger Heaven character, Adora Boniface, on her. She helped her mother found The Mme. C. J. Walker Mfg. Co. in 1905, then opened its New York office and beauty salon in 1913. Upon Madam Walker's death in 1919, A'Lelia Walker became president of the company. Her interest in Africa led her in 1922 to become one of the only westerners to visit Ethiopian Empress Waizeru Zauditu.
© 1991 Helaine Victoria Press, Inc. A nonprofit educational organization.
Caption written by A'Lelia P. Bundles, great-granddaughter of A'Lelia Walker. Photo courtesy of A'Lelia P. Bundles.
Zora Neale Hurston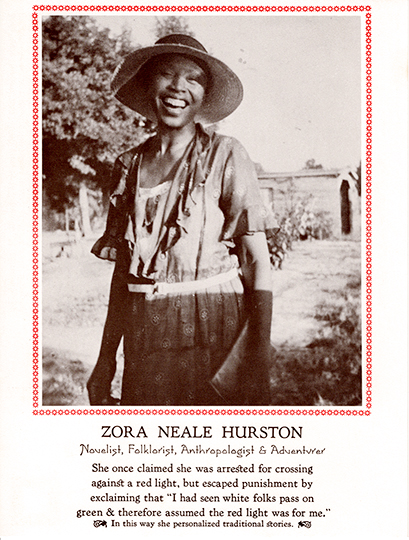 Zora Neale Hurston (1901?-1960) grew up in Eatonville, FL, surrounded by the African-American culture of that self-governing, all-Black town. She spent much of her life seeking a literary form that could blend her experience in the rural Black south, her anthropological studies at Barnard and the artistic revolt of the Harlem Renaissance. One of her novels, Their Eyes Were Watching God, brought to perfection the creative artist and the folklorist. Hurston's adventurous spirit led her to Haiti to study hoodoo, to Honduras to seek a lost civilization and from Florida to New York on a 1,500-mile houseboat voyage; and it made her a central figure in the Harlem Renaissance. Still writing and with her visions unfulfilled, Hurston had to send an unsolicited manuscript to a publisher in 1959, even though she was the most published Black woman writer in the US. "I shall wrassle me up a future or die trying," she said. Hurston died in poverty and obscurity in a Florida state nursing home. She left a wealth of material on the Black folk community, and the recent feminist revival of interest in her life and work has brought many of her writings back into print.
Margaret-Sanger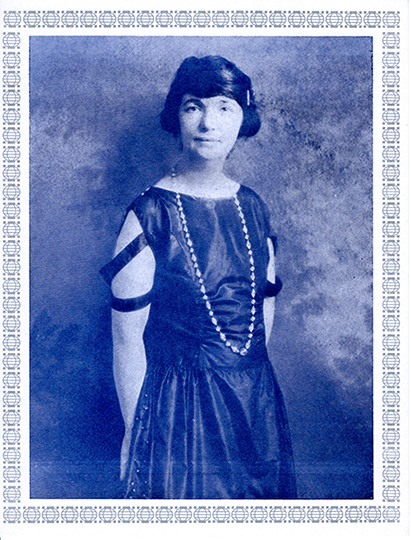 MARGARET SANGER (1879-1966), American family planning pioneer. Born into a poor family of 11 children, she became an obstetric nurse, married Wm. Sanger, and had 3 children of her own. The Sangers spent most free evenings with the leftist & feminist thinkers in pre-World War I Greenwich Village. She came to believe that sexuality was the most important part of the human spirit, and essential to health. She wrote and spoke on health for young women, especially mothers. It was then (1912) illegal to give any contraceptive information, even for doctors. Poor women, like Sanger's patients, suffered most and often died. She went to Europe to learn French & Dutch modern methods. Returning to the U.S., she shared her illegal knowledge with packed audiences, founded The Woman Rebel newspaper, and opened the 1st birth control clinic in N.Y.<e was arrested with her sister, Ethel Elyrne, who fasted in prison & was forcibly fed. Sanger's wealthy second husband financed much of her later work and public contributions also grew: by the 1930s there was a national network of clinics. Sanger's earlier groups eventually became the Planned Parenthood Federation of America.
(Photo courtesy of the Labadie Collection, University of Michigan Library.
Breaktime at the Defense Plant
© 1980 Helaine Victoria Press, Inc. A nonprofit educational organization.
Photo courtesy of Women s History Collection, Division of Political History, Smithsonian Institution.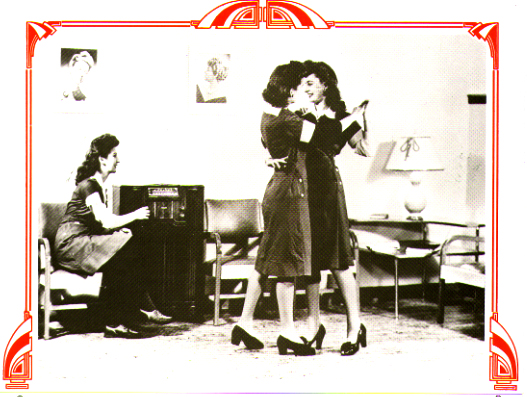 Breaktime at the Defense Plant. Women took over hundreds of thousands of factory jobs during World War II, and a few well-publicized plants had pleasant lounges, day-care centers, cafeterias, etc. This scene at an aircraft parts factory, about 1943, was enacted many times over across the country at any spare moment. The jitterbug led the dance craze and one out of every four juke box nickels went for a Glenn Miller platter. Leading big band vocalists included the Andrews Sisters, McGuire Sisters, Helen Forrest, Vaughn Monroe, and Billie Holliday.
© 1979 Helaine Victory Press Inc. A nonprofit educational organization.
Photo: Courtesy of Archives of Labor & Urban Affairs Wayne State University.
Arizona Copper Mine Strike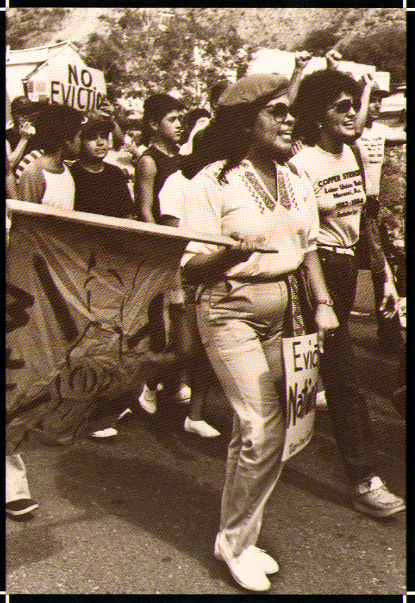 Hundreds of union families held the line in the 1983 strike against Phelps Dodge Copper in Arizona. After more than a year the strikers lost their union certification, but the battle permanently altered the social order in these small, predominantly Hispanic mining towns. At the time the strike began, many women said they couldn't leave the house without their husband's permission. Yet, when injunctions barred union men from picketing, their wives and daughters turned out for the daily picket lines. When the strike dragged on and men left to seek jobs elsewhere, women continued to picket, organize support, and defend their rights even when the towns were occupied by the National Guard. "Nothing can ever be the same as it was before," said Diane McCormick of the Morenci Miners Women's Auxiliary. "Look at us. At the beginning of this strike, we were just a bunch of ladies."

© 1989 Helaine Victoria Press Inc. A nonprofit educational organization.
Caption by Barbara Kingsolver author of Holding the Line: Women in the Great Arizona Mine Strike of 1983 (ILR Press).
Photo courtesy of Ron Chaff. Strike supporters on Labor Day, March 1983, in Clifton, Arizona. This was one of the few peaceful demonstrations in the copper mine strike.